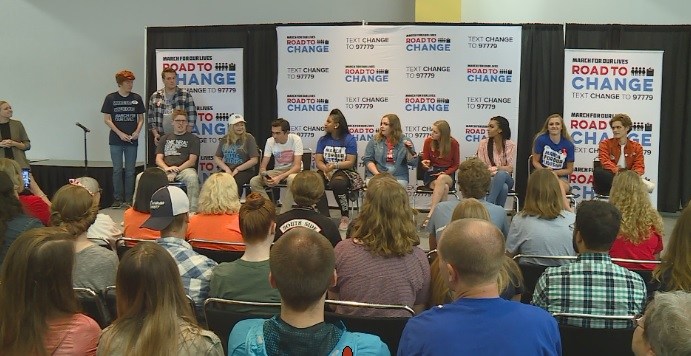 The survivors of the Parkland, Florida mass shooting that left 17 people dead inside a high school, held a town hall and urged guests to register to vote in order to create change.
They walked in with a crowd giving them a standing ovation.
"We can work together to make change instead of working against each other," said one survivor.
The group of former and current students took the stage as they shared their stories and urged change after living through a school shooting themselves.
"We're pro-second amendment but we're also pro-saving lives," said David Hogg.
Emma González became a face of the Parkland reality and is still trying to overcome what happened.
"Things have been uphill and downhill and things have been hard and simple and it's been a very hodgepodge assortment," she said.
The activists are on a tour across the country. They traveled through Iowa before stopping in Janesville and then landed in Madison. At the Alliant Energy Center, it was a packed crowd as there was standing room only.
Emily Faulk just graduated from Madison East High School this past spring.
"We grew up in a time and in a period when this was real and we were old enough to know that it was real," said Faulk.
It's why she attended the town hall as she hoped for action after years of fear.
"We're never satisfied, we need to keep going until we solve the problems and that's going to take longer than I'm alive," said Faulk.
Outside the event, were tables and volunteers who helped people register to vote. It's something organizers say is crucial for lasting change. Although there were some younger children there, they too, have a role.
"Telling your parents that you're concerned about this and please, I know I can't vote but you can vote for somebody who makes sure I stay safe so that I come home to you," said González.
A group of students who have survived the unthinkable and who are now trying to enact change.
The students will travel to Milwaukee on Saturday as they continue their summer tour around the nation.
For more go to WKOW: http://www.wkow.com/story/38491113/2018/06/22/march-for-our-lives-holds-rally-in-madison